Davis Circus of Illusion
Truly an event like no other; Craig Davis and Myryka combine the artistry of illusion with the spectacle of the circus. Completely unique and original, the Davis Circus of Illusion is a once in a lifetime experience!
Spectacular Grand Illusions
Side-Splitting Comedy
Audience Participation
World Class Belly Dancing
Trained Tropical Birds
Amazing Juggling
Original Music
The show is self-contained with backdrops, lights, sound, and an audio/visual technician. (These are available for your use before and after the show)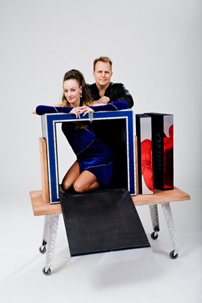 Details
This show can be customized and performed in a variety of settings, however, the following is recommended
Ideal minimum stage size 16' x 24' x 2' (see stage and power requirements).
Approximate set-up time is 3 hours. Time should be scheduled for set-up to be completed before the audience arrives.
The audience must be seated in front of the stage (as opposed to the sides or back).